Meet the Band
The Petersens are made up of four siblings (Katie, Ellen, Matt & Julianne), their mom, dad, and dear friend, Emmett Franz. Get to know each of them individually!
Katie Petersen
Musical Leader, Fiddle Player, Songwriter
Katie is the oldest Petersen sibling and is the musical leader of the group. Katie graduated from College of the Ozarks in 2014 with a bachelors degree in Chemistry and Spanish. After graduation, Katie moved to Oxford, England to study C.S. Lewis and the Psalms through the Summit Ministries Oxford program. Katie is a great songwriter and it had always been a dream of hers to study her favorite author at Oxford. More recently, Katie's love of traveling took her to Nicaragua to teach music and English at a school through Project Hope. You can read more about her time in Nicaragua here. Currently, Katie enjoys teaching fiddle and piano lessons to students and, of course, bluegrass with the family. The best way to Katie's heart is through a cup of coffee.
Ellen Haygood, MBA
Director of Marketing, Banjo Player, Patreon Manager
Ellen is the second oldest Petersen sibling and banjo player for the band. Ellen was first handed a banjo while the family was at its first bluegrass festival at which the kids' dad decided the family should become a bluegrass band. Ellen graduated from College of the Ozarks in 2014 with a bachelors degree in Chemistry and moved to Oklahoma City to work as a laboratory technician. That summer she auditioned for American Idol for fun as its bus tour went through Branson and she ended up making it to the top 48 on Season XIV. (See her initial audition here and read an interview about her journey on the reality TV show here.) After American Idol, Ellen moved back to Branson to focus more on music and earned her MBA with a graduate certificate in marketing at Missouri State University. Now, Ellen enjoys marketing their family's band full-time heading up their YouTube content, social media, and website. In January of 2020 she married Michael Haygood of The Haygoods, another performing family in Branson. Read all about their fun proposal and wedding! The best way to make Ellen smile is a bouquet of fresh flowers.
Matt Petersen
Guitar Player, Band Manager, Branson's Most Eligible Bachelor
Although Matt is the lone boy in the Petersen sibling lineup, he more than holds his own on stage and in the band operations. Matt graduated from College of the Ozarks in 2017 with a bachelors degree in Business. Since graduating, Matt runs most of the business aspects of the band including outside bookings and also handles the technical side of the Branson show. He manages all of our shows, schedules, and logistics which is no easy task when it comes to traveling with this amount of people and gear! Outside of the band he enjoys running, cycling, leading a small group for boys at our church, and he is a pretty great two-stepper. Matt never fails to make each show unique and entertaining with his comedy and does a great job of keeping the band grounded. A sure way to make Matt laugh is a funny t-shirt. He's a size medium… 😉
Julianne Petersen
Mandolin Player, Eye Roller, Dimple, Vlog Specialist
Julianne Petersen is the baby of the family and has been the full-time mandolin player since 2017. Julianne started off playing the fiddle and clogging on stage when the band started in 2005 and has always been an audience favorite. (See a video of her dancing here.) Julianne has worn many hats for our family through the years and even ran sound and lights for them at the young age of eight! Julianne is also the reason many of you have found us on YouTube. She has championed our journey of documenting our travels and creates entertaining vlogs of our trips on a separate YouTube channel that gives a fun insight into our family life. Julianne currently attends John Brown University and is studying English Literature. The easiest way to make Julianne your friend is through chocolate.
Julianne's Instagram  (Please don't send her a creepy DM. If you don't know what that means, this doesn't apply to you….)
Emmett Franz
Dobroist, Composer, Musical Genius, Adopted Brother for Matt
Emmett Franz is the newest member to The Petersens and fits perfectly with the band with his values and musical style. Emmett grew up playing music with his family, The Franz Family, touring professionally with them for 20 years. Emmett started playing the dobro at the age 14 and has since become one of the most accomplished dobro players in the country. The dobro is an uncommon instrument mostly seen in bluegrass and country and Emmett manages to take the instrument to a whole new level with his exceptional taste and imagination. He is by far one of the greatest dobro players currently performing and his music is available on his website and through Spotify. Emmett began playing with The Petersens in 2017 and they could not be more honored to have him as a full-time member of the band. When not playing music, Emmett is usually found dominating on the volleyball courts.
Emmett doesn't have a personal YouTube channel, but there are multiple videos of him with his family and other artist like Chelsea Moon. This one is a personal favorite.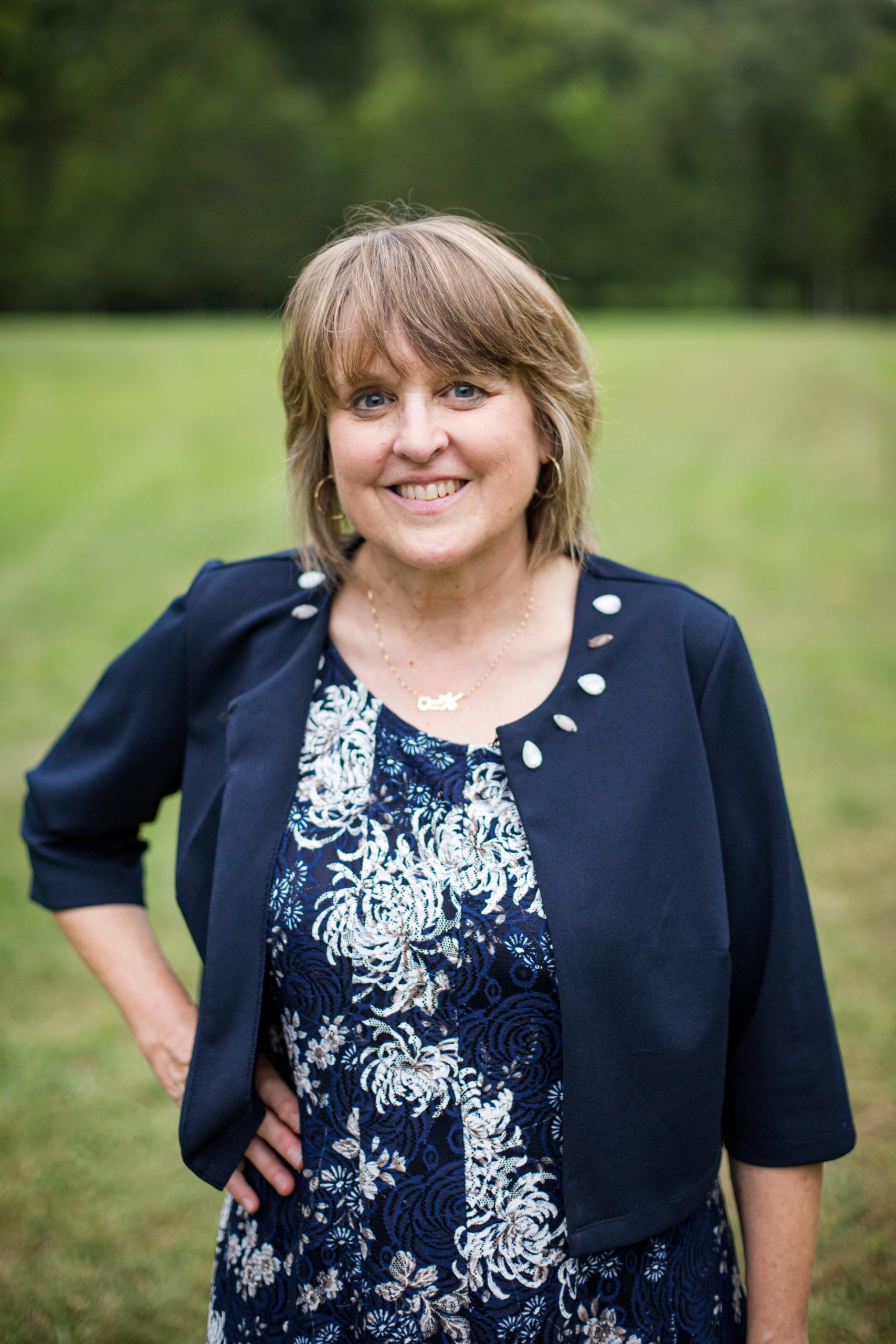 Karen Petersen aka Get It, Mama
Bass Player, Mother, Band Chaplain
Karen Petersen is the mother of the Petersens and a true saint. Karen is from Mountain Grove, MO and music has always been a part of her life. She played the trumpet through her school years and received her Masters in Music Education from Oklahoma University. She met her husband, Jon, through Campus Crusade for Christ and followed him around in the Air Force for over 23 years. Many people ask how we learned to play music and most of it can be credited to this talented lady. Her comprehensive knowledge of music helped all of us as we began learning to play instruments, sing in tune, and sing harmony parts. Karen began as the band's mandolin player but switched to bass when Julianne started to learn in 2017. Beyond her epic bass playing, she helps Katie chart out the songs for our band rehearsals and pick out harmony lines. Back in her mandolin days, audience members began a fan club for her called "Get It, Mama!" and enjoy encouraging her by yelling that throughout the show when she plays the bass. The fan club lives on today and you can join the official fan club on Facebook, click here, or give her a fun shout out when you see us at a live show. When not playing groovy licks on the bass, you can find Karen reading a book and drinking hot tea.
Jon Petersen, Lt. Col.
Piano Player, Founder of The Petersens, Doctor, Pilot
There isn't much our dad can't do. He grew up in Charleston, West Virginia, and started taking piano lessons at age seven. He loves playing music and has played various instruments throughout his life including saxophone, guitar, and bass. Another lifelong passion is aviation. His dad, Dan Petersen, taught him how to fly and they both earned their flight instructors ratings together. Dad is still a very active pilot and loves to fly anywhere there is food at the destination! Our dad joined the Air Force in 1983 and two years later married the lovely Karen. He served on active duty for over 23 years and retired as a Lieutenant Colonel in 2007. While in the Air Force, the Lord placed a calling on his heart to pursue medicine. He went to medical school midway through his career and completed a residency in Family Medicine. After residency, he attended the USAF School of Aerospace Medicine to train as a flight surgeon for the Special Forces. Following that he did a second residency in Preventive Medicine at Johns Hopkins University and received his Masters in Public Health and became board certified in Occupational Medicine. (We told you, the man has done it all). When he retired from the military he wanted to find a place that would keep our family together. For a veteran that loves the Lord, his family, and music, you just can't beat Branson, Missouri. He currently plays piano in our Wednesday gospel shows and usually attends our other shows to hang out with all of you! It was his dream that started this family band and we are so thankful for the amazing man and leader he is. His favorite song is an original we wrote as teenagers called My Daddy's Got A Gun. If you see him at the show, you should ask him about it and what his favorite moments are scaring off boys from his girls…….