Music Made in the Ozarks
and Enjoyed Everywhere
We love sharing our music with you
on stage and online.
Come See Us Live
Pay us a visit in Branson or catch us on tour. Every show is a unique experience and after every performance we feel our family gets a little bit bigger.
Tune in Online
Check out our YouTube channel to see special performances. You can also listen on Spotify and other streaming platforms, or purchase our albums to always have our music on hand.
Join Our Community
Connect with us on Patreon to get a backstage pass to exclusive content and new music. Be sure to join our Facebook group as well!
Upcoming Performances
Explore our latest show dates and get your tickets today.
Staying True to Who We Are
We're just your average family that happens to be the #1 show in Branson, Missouri.
With everything going on in the world today, music can be a soothing salve to the stress and worry that weighs us down. It can create common bonds between friends and even total strangers. We experienced this sense of community at a bluegrass festival several years ago and this inspired our family to form our own band. Now we strive to make authentic music that folks of all ages can enjoy and take part in.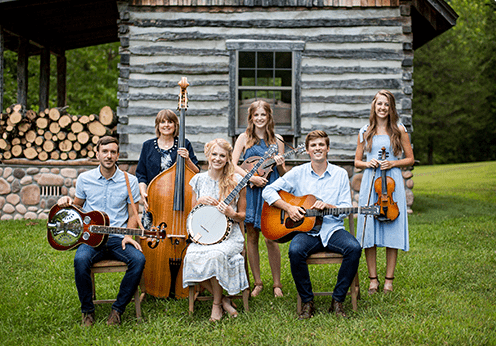 The Show Must Go On
We really do have the best fans in the world and your support means the world to us. Connect with us on Patreon where you'll find special performances, fun surprises, and hear new music first.
let's band together.
Browse the official Merch Store of
The Petersens
Grab some of your favorite albums, get a cozy sweatshirt, and even get a branded mug that's perfect for sipping your coffee or tea while you listen at home.